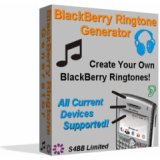 BlackBerryInsight is announcing the first MP3 store that can deliver MP3 music from your favorite Top 10 singer / band / whatever to create a BlackBerry ring tone from!
Check out our BlackBerryInsight MP3 Store!
All MP3 music files there can be used to create your own ringtone for your BlackBerry Wireless Handheld. Please check out the MP3 Ringtone Generator for BlackBerry if you want to create your own ringtone!
Don't forget to use our 20% discount on which can be used on all products at www.MobileSoftMarket.com: "bbinsight20″